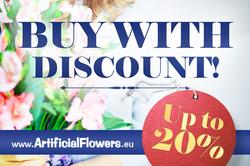 Dear Sirs,
we would like to remind you that from the beginning of 2017 you can collect points for all the purchases in our wholesale store. Their proper quantity entitles you to purchases with a FIXED DISCOUNT, EVEN 20%.
Detailed information about this offer is available on our website http://www.artificialflowers.eu/discount-policy/ in the section "Fixed discount in Discount Program".
We also remind, that single purchases may also be rewarded with a 20% DISCOUNT. More information on the same page in the section "Discount on a single purchase".
For orders with a value from PLN 7000 gross collected personally, we offer an additional 2% discount. Alternatively we offer free delivery throughout the country.
Offer applies only for domestic orders paid in advance or cash on delivery. More information in the section "Discount for personal pick up".