Happy Birthday: our brand new logo for 30+1 anniversary!
June 2, 2021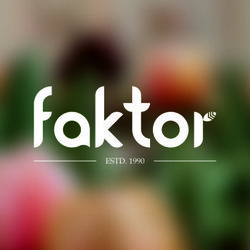 Dear Customers!
We are so excited and honoured to present to you the new logo of the FAKTOR Company and of the artificialflowers.eu brand as we celebrate our 30th + 1 anniversary.
For the last 30 years, we have been proudly running the family business. This year the time has come for changes that we had already planned a year ago, but which we had to postpone due to the pandemic. That is why today, on the 30th anniversary of the company (plus 1 year!), we are happy to present our new logo. We wanted it to be fresh, taking soft and gentle shapes and with a modern flavour. This new subtle graphic design, simple yet elegant, conveys the positive emotions and associations about the universe of the artificial flowers and plants.
We are ready for the new challenges that lie ahead. However, by announcing the new logo we are in no way abandoning our traditional values: our passion for faux flowers, our commitment and our eagerness to serve our customers to the best of our abilities will remain with us for the NEXT years to come.
Let us celebrate our birthday with a special promotional code: 15% off your selected items (click on the banner below to see full list) valid for 30+1 days - from June 1 to July 2. Just enter the code WHOLESALE31 while placing your wholesale orders.
Or, if you are retail Client - please enter code RETAIL31 to get 15% off to your entire purchase!
We hope you'll like our new look and are looking forward to a successful relationship in the next 30+1 years to come.
Thank you for your patronage!
Management Board of the FAKTOR Company
Bożena and Wojciech Gęsina