Heart Shape Natural Root Rough Wreath 40 cm Y621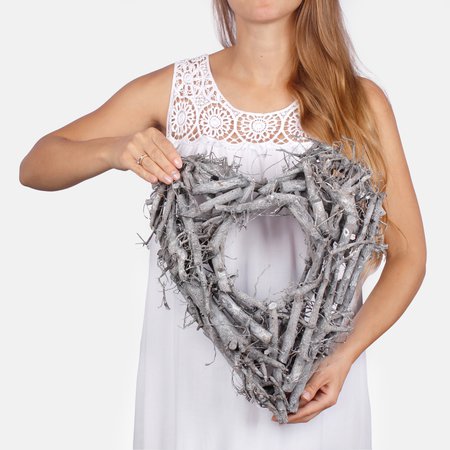 Retail gross price:
per pcs
Min sale unit: piece
Piece
Net wholesale:
EUR 8.55
per pcs
Gross wholesale:
EUR 10.51
per pcs
Carton (10 pcs)
Net wholesale:
EUR 85.45
per crt
Gross wholesale:
EUR 105.11
per crt
Discount group:
A
Discount points:
8.8437
per pcs
Without discount
Gross wholesale:
EUR 10.5107
per pcs
With discount
Level 1
3%
EUR 10.1953
per pcs
Level 2
5%
EUR 9.9851
per pcs
Level 3
10%
EUR 9.4597
per pcs
Level 4
15%
EUR 8.9341
per pcs
Level 5
20%
EUR 8.4085
per pcs
Courier shipment:
from EUR 4.63 gross
Completion time:
within 1 - 2 working days
Product description
40cm / 15,5 inch. Wild, natural, and rustic, this wreath is crafted from dried root rough. A perfect base for dried botanicals or looks lovely on its own. Natural Root Rough Wreath, Great DIY Accessories for wreath or ornaments. These natural root wreath would make beautiful decorations for the rustic county home,use them as door, wall, mantel piece, Christmas Tree, window, wedding, party or home decor. Please Note: These items are handcrafted from natural vines and all sizes are approximate; individual unit sizes will vary from the published dimensions
Length: 39 cm
Width: 32 cm
Approximate height: 7 cm
Inner diameter: 12 cm
Warning! Product of natural origin, manual coloured, the colour may slightly differ from the visible on the photo.
Product photos
Photo gallery for White
Y621-01
Photo gallery for Grey
Y621-02
Size photo of Heart Shape Natural Root Rough Wreath 40 cm