Artificial flowers - perfect solution for restaurants
Nov. 19, 2021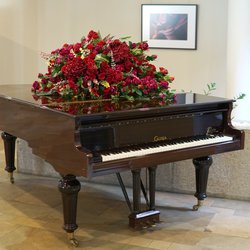 Realistic design, economical solution
Do you think flowers in a good restaurant have to be live? Nothing further from the truth! This article will tell you why you should choose artificial flowers for your restoration and why it pays off.
Do you think flowers in a good restaurant have to be live? Nothing further from the truth! Artificial flowers have many advantages and are a better option than live flowers. Natural flowers are beautiful, that much is obvious. However, many people don't realize that artificial plants can be deceptively similar to live ones and - more surprisingly - they sometimes look even better than their live equivalents!
It is obvious that fresh flowers should be changed every few days. It seems superfluous to hire a florist for the restaurant on a permanent basis, in addition to the cost of cut flowers. A much more rational solution is to provide the restaurant with ready-made arrangements of artificial flowers. You can select several sets for key seasons. If you care for them properly, they will serve you well for several years.
Perfecr addition to any space
Specific arrangements should be matched not only to the colour of the room but also to their functionalities. Larger arrangements are perfect for public areas, such as the entrance, hall, bar, buffet table, and even toilet, whereas smaller ones can be put on tables.

Simple design, sustainable investment
Delicious food is not everything. Food always tastes better in a beautiful setting. A skilled florist will be able to design vases, pots and green walls for the entire year during only one visit. Everything should be perfectly matched to your taste and interior design. Choosing artificial plants means choosing a hassle-free decoration for your restaurant, without compromise with respect to quality.
The advantages of artificial flowers far outweigh those of live plants.
Trendy and convenient solution - if your property is decorated with artificial flowers, you don't have to remember to water and trim the plants. There is also no risk that the plants will get sick, wilt or lose leaves or petals that you have to pick up. You also won't have any problem with spiders, aphids, ladybugs, or bees that are attracted by the scent of fresh flowers. With artificial plants, you can provide beautiful and colourful arrangements for your tables - without the risk of making a mess, attractive insects or increasing an allergic reaction to pollen.
Hyperactive children chasing each other between and around the tables - does it sound familiar? Certainly. Believe me, this is the moment when you definitely prefer to have artificial arrangements in your restaurant. In the event of a small disaster, you will simply pick them up. There's no need to interrupt everyone's meal with hasty vacuuming, and spilt dirt and broken glass won't ruin anyone's evening. It all gives you the luxury of focusing on what matters most in your business - customer satisfaction.
A wide range of products means a wide range of options to choose from
Which products do restaurant owners choose most often? The most popular products are exclusive floral branches, ready-made arrangements, artificial trees, ivies, as well as boxwood balls and green plant panels, which are a great solution for rooms without daylight, such as dark halls, walls in the corner of the room and spacious bathrooms, where illuminated panels look like living greenery. If you do not know what product will look best in your restaurant, call us. We will be happy to answer all your questions.