Beautiful arrangements made of artificial flowers - do it yourself!
Nov. 19, 2021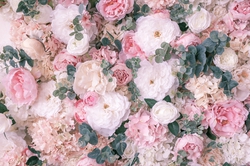 Merely a dozen or so years ago most people felt that artificial flowers were the apotheosis of tackiness and ugliness. Today, things are very different. Manufacturers who produce artificial plants offer so many varied and colourful products that even the most demanding customers will be satisfied. Arrangements prepared with the use of artificial flowers are a total hit. Not only are they inexpensive, but also extremely pleasing to the eye. Here are the best ideas for decorations made of artificial flowers.
Floral garlands
Garlands made of artificial flowers are a great way to complement decorations for a party or an outdoor event. Garlands can be primarily made of green leaves. To make the whole thing look exceptional, the green base can be adorned with tasteful, fabric flowers in one or several colours, depending on the type of the event we are organizing.
Floral garlands can quickly change your interior beyond recognition. Floral garlands hanging from the ceiling create an extraordinary, very attractive atmosphere. They also work well for decorating gazebos and gates at outdoor weddings. Properly prepared garlands of artificial flowers are a guarantee of an immediate metamorphosis of any space. They can be easily fitted and removed, which makes it all the more worthwhile to invest in them.
Artificial flower wall
Flower walls are widely used during events organized by well-known brands and during fashion shows. Artificial flowers are usually attached to special nets or mats for attaching flowers. The flowers are arranged one next to the other to form an opaque wall that looks absolutely heavenly! The mat has special tabs to attach the flower heads on them. Mats are designed primarily for artificial flowers because of their very easy installation.
How do I choose the colour of my wall? All designers and experts from the world of fashion emphasize that white, pink or ecru will never go out of fashion. However, there are also customers who prefer originality and choose very unusual colours or combinations. Gradients - from white to intense colours - are an increasingly popular idea. Fluffy artificial flowers such as peonies, roses, and eustomas will look perfectly on walls. Preparing a floral or green wall is a solution that is definitely worth investing in. Such realizations are absolute hits that will make the guests remember your event for a long time.
Floral curtains
A wall of artificial flowers means almost endless possibilities. It does not have to be only a non-transparent surface - openwork structures of flowers suspended on strings are also an interesting solution. It is impossible to prepare such a decoration of fresh flowers. It could only be created using glass vials which would look very unattractive and at the same time substantially increase the weight of the entire structure.
What is the best place for decorations with artificial flowers suspended on strings? We highly recommend using this solution for special events. They are frequently used as permanent decorations in hotels or restaurants. Light, artificial floral arrangements made this way can be complemented with acrylic or glass pendants and beads that will add to them the the desired elegance, uniqueness and timelessness. What artificial flowers are the best choice for a flower curtain? We recommend heads of roses, dahlias, hydrangeas, peonies and carnations.
Artificial flower chandeliers
Artificial flowers can also be used to create chandeliers. Such an arrangement can be used instead of floral centerpieces on tall bases that take up space on tables during wedding receptions or other special events. An artificial flower chandelier is hanged directly above the tables or in any other place that we want to put the accent on.
Artificial flowers in picture frames
Artificial flowers will also work great in slightly smaller decorations. They will look really beautiful arranged inside frames. A picture made of artificial flowers will definitely be quite the eye-catcher. A floral, three-dimensional picture will enliven any interior - in a hotel, beauty salon, restaurant and even apartment. We can create one large picture, or several smaller ones in different sizes.
Florals arranged in picture frames create floral walls in a smaller version - in this case, we can also go for the well-tried classics or plain colours. Flowers with lots of petals, with which you can easily create a homogeneous surface, will be a great choice when making pictures using artificial flowers. The flowers can be attached to a mesh, but you can also use a lightweight board and glue.