Flowers in your home on your terms
Nov. 19, 2021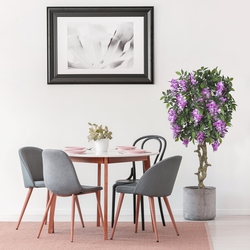 Floral or green bouquet or pot - depending on our preferences, we can choose what suits us best. Needless to say, thanks to flowers, our interiors are exceptional and unique - they have a soul. Natural flowers are the first thing that comes to mind. However, there is a problem with their durability. They also require special care and watering, about which we can easily forget in today's hectic world.
Cut flowers for which time is merciless are the most demanding. When we receive a bouquet, we would probably prefer to enjoy it rather than constantly care for it so that it does not wilt or wither or that its leaves do not fall off, especially if we are expecting guests. A bouquet of cut flowers will last about two weeks provided that you care for it properly. This involves cutting or even burning the stems, changing the water, and adding nutrients.
To avoid sad, droopy plants, we can choose artificial flowers. Artificial? Yes. You can forget about shoddy and poorly made products. Thanks to the state-of-the-art technology and design techniques, you will have a hard time seeing the difference between a natural flower and an artificial one. Nowadays, artificial flowers look like real plants, but they are more efficient.
Another advantage of artificial flowers is that they require no care. Just wipe them with a cloth; some products can even be washed in running water. This method is convenient and does not require much involvement. All flowers will bravely endure vacuuming, but washing is only recommended for rubberised plants.
Sometimes, we don't have appropriate conditions for growing plants at home. Flowers poorly tolerate limited access to light despite other care treatments. Some rooms have particularly limited access to light due to small windows. However, such factors are irrelevant in the case of artificial flowers, which we can keep wherever we want. No matter where you put them, they will always look equally beautiful. They can be easily incorporated into every corner of the room or put on any dresser with little sunlight.