How to use flower petals?
Nov. 19, 2021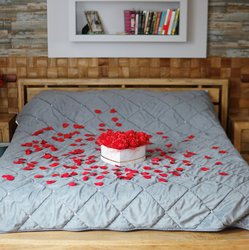 Catholics will probably immediately think about the processions of Corpus Christi, during which children scatter flower petals under the feet of the priest carrying the Host. Flower petals are just as strongly associated with weddings, Valentine's Day, a romantic date or a gift for one's sweetheart.
While fresh flower petals are beautiful and fragrant, they are expensive when bought in large quantities and tend to wilt quickly. That is why we have artificial flowers with which we can create various decorations. The only thing that limits us is our imagination!
Flower petals at weddings
Artificial flower petals will be a great alternative to rice that people sprinkle on the newlyweds, and even more so - to pennies. They look beautiful, they are light and will not hurt anyone. The photographer will capture the newlyweds in a romantic downpour of flowers, creating a photograph that they will look at for years to come, moved by the memories of their happines...
Romantic valentines
If you want to impress your other half - fill a decorative box with rose petals. Don't forget to add a smaller box... where your loved one will find an engagement ring or jewelry with precious gemstones.
You can also use artificial flower petals to prepare a romantic bath. Our petals do not stain the bathtub. Such a surprise will definitely provide the WOW factor.
Table decorations
The petals will work great as a decoration for the table. You will achieve a unique effect by covering the table with draped tulle or adding live flowers in the colour of the petals. Surprise your guests by sticking petals to their glasses. You can also add subtle beads or zircons in the same colour, giving the decoration a luxurious look.
Flower power at a party
It is a great idea to decorate your dress, bikini or headdress with artificial flower petals. A costume purchased online will never compare to one that you have made yourself!
Messed up? Stayed on an extended delegation? Or perhaps forgot your anniversary?
You can fix this! Buy a bottle (or two) of good wine, and prepare a chocolate fondue. Scatter red floral petals on the floor, from the entrance to the bathroom or bedroom. Light some candles, pour the petals into the bath and have a good time!
Artificial petal wreaths
It is an interesting idea to create a wreath with petals for your interior or the entrance door to your home. If you're creative, you'll make a decoration that'll be envied by the neighbours. You can finish off the arrangement using artificial or dried plants, and the whole composition will be a beautiful decoration for your door.
In conclusion, artificial petals can be use in many ways. They come in various colours and shapes. Order the types which you like best and let your imagination run wild. Make sure to share the effect with us!