Is it worth decorating your home for Christmas this year?
Nov. 30, 2021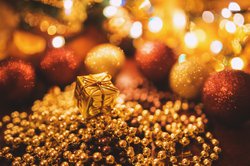 We all know that the world can be a tough place sometimes. Constantly hearing bad news from around the world can sometimes make your skin crawl. However, the upcoming Christmas is very much embedded in Polish tradition and it is what prevents us from... going crazy!
Especially in troubled times, a beautifully decorated home, aromatic meals and time spent with our loved ones are what can keep our spirits up for months. Thus, it is worth making sure that this year's Christmas reminds us of the ones we remember from our childhood. There is nothing more beautiful than the memories of time spent together with relatives in a decorated home, in a family and festive atmosphere.

Increasing prices and inflation are upsetting to all of us, but one of our most beautiful traits of character as Poles is that every difficult situation motivates us to greater ingenuity and resourcefulness. If we want to save money, the perfect idea would be to create decorations with our own hands this year!
Do-it-yourself – DIY!
We have 5 suggestions for you on how to decorate your homes creatively and we cannot wait to share these ideas with you! Feel free to show off your masterpieces on our Facebook or Instagram profile!
Door Wreath
Hanging Christmas wreaths on the door is a tradition associated with the United States, Ireland or the United Kingdom, but there is no denying that Poles have also fallen in love with wreaths, which bring a smile to the guests' faces already at the entrance to the house or apartment.
There are many ways to make wreaths. The first is to decorate a wicker wreath with baubles, small spruce, pine or holly branches. Cones, red ribbons and artificial berries that are inevitably associated with Christmas are crucial. We also offer gorgeous wreaths made of plastic, some of which are crafted so perfectly that it is hard to tell they are artificial and not real. Wreaths can also be made with the use of real branches but it is impractical and runs the risk of the wreath being too heavy or the resin from freshly cut branches staining the door.
Artificial green garlands
Garlands are a wonderful traditional decor. You can hang them over mirrors, on the fireplace, on the window, balcony, around the front door to the apartment, and even the stair railing if you live in a detached house. Our offer includes both green and snowy garlands. Just hang baubles on them, add lights and you'll already have an atmosphere that will stay in your memory for years to come.
Table decorations
There is no Christmas table without small decorations made on coniferous branches. You can also use tiny "presents" or dried orange and apple slices. Handmade Christmas trees made of pinecones will be perfect - if you don't have time to prepare them yourself, see the wonderful products available in our store!
What kind of decorations to use for a Christmas tree?
You can hang... literally anything on the Christmas tree! A great choice are poinsettia heads, tinsels, angels, openwork decorations, dried fruits, sweets, cones, while glitter baubles and other accessories will add a real shine.
Finally – PRESENTS!!!
Presents are also beautiful interior decorations. It is worth putting some creative effort into their packaging. Paper, jute twine, dried fruits, small coniferous branches, artificial bundle of red berries, or beautifully tied ribbons can make one smile simply by looking at the gifts placed under the Christmas tree and create that unforgettable atmosphere that we will miss until next Christmas.