Myths about artificial flowers. Why shouldn't you believe them?
Nov. 18, 2021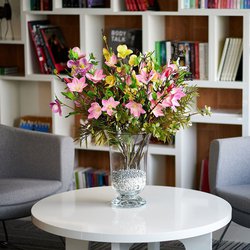 Let's dispel the myths about artificial flowers. Artificial flowers recovered from the childhood disease, i.e. shoddy materials and negative connotations, a long time ago. Thanks to the development of new technologies and techniques of the processing of raw materials, today's synthetic flowers look and feel like real plants. And there are endless possibilities of their application!
There is probably no other industry with respect to which so many myths and stereotypes have been created than the sector od artificial flowers: they are cheap and ugly, they are unnatural or ... it's not right to use them. However, such a perception of artificial plants is like comparing, for example, a dial phone from the past and a modern smartphone. The current range of our synthetic plants is astonishing not only due to the quality of our products but also the variety of species. Interior designers have long been incorporating artificial flowers into their designs for shopping centres, TV shows, offices, hotels or restaurants. However, for several years, they have been more and more often chosen by individuals who look for interesting decorations for their homes: living rooms, bedrooms, bathrooms or balconies and terraces. Once you've tried them, you'll become an avid enthusiast.
Artificial or real flowers? Today, the answer is not so obvious.
Everyone certainly gave in to the impulse to touch a plant in a shop or hotel in order to dispel the nagging doubt: "artificial or real?" at least once in their life. This is because, very often, this is the only way to be certain. What's more, in the case of green plants or trees, even this method can be misleading, as it's not uncommon for manufacturers to make some elements from natural parts of plants. Exclusive and realistic-looking arrangements, made with care, can surprise more than one "doubting Thomas". And he, delighted with the appearance, will believe that artificial materials can be a synonym of beauty and refined elegance. There is a reason why such arrangements have become a permanent element of Christmas, ballroom, wedding or church decorations as well as decorations for many important family or social events. Artificial flowers can be successfully used in photo sessions and as a clothing accessory. What is important, after the end of the ceremony, the flowers will not wither and may become a precious family heirloom, bringing back the memories of touching moments from long ago.
Informed choice of synthetic flowers
Arrangements of artificial plants have a considerable advantage over their living prototypes, namely, when using them, we are only limited by our imagination. After all, we can use exotic flowers (strelitzia, gloriosa or heliconia) or those that don't require special conditions to live (orchid or palm) that we wouldn't be able to ensure at home. Therefore, people who love plants and would like to surround themselves with flowers but cannot do it for many reasons or simply don't have green fingers more and more often choose artificial decorations. Another common and objective reason is an allergy to certain species of plants or a lifestyle that make it impossible to devote time and attention to flowers. New generation synthetic artificial plants are simply perfect for rooms with limited access to light (corridors, rooms without windows, alcoves or hard-to-reach corners) or increased humidity (bathrooms), or for rooms that are very warm and dry.

For those who appreciate both flora and fauna, especially in the form of pets, having artificial flowers may be the only solution. This avoids possible problems with your four-legged pet chewing on the plants (especially as some plants contain substances that are potentially harmful to pets!). Not to mention that house pets often knock over pots, destroying them irreparably.

Office is an excellent place to display the hidden beauty of artificial flowers. Elegant boxwood, green grass, exotic bamboo, palm trees or decorative green mats will work perfectly there. Colourful orchids or delicate magnolias will make the office reception look cosy, and potted succulents in the bathroom will add elegance to the room.
Dispelled myth about artificial flowers
Finally, we have to say it out loud: in no way are artificial flowers inferior to organic flowers. Although for decades they have been mostly used for funerals and cemeteries, today we can see them in almost all circumstances. They have qualities that natural flowers will never have. Unlike them, they do not pass away or wilt. They are pleasant and delightful for a long time - a feast for the senses. In fact, one can even reflectively and only a bit playfully ask whether artificial flowers are not a symbol and embodiment of man's eternal dream of immortality...