Succulents - small but beautiful
Oct. 28, 2021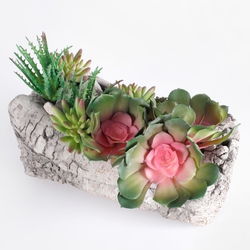 Succulents are small and attractive potted plants that are perfect for your home. Our Artificial Flowers offers a wide range of various types of succulents made of plastics. You can give free rein to your imagination and create an arrangement tailored to your interiors. We have prepared several ideas for you. One of the biggest advantages of using artificial flowers and plants is that in addition to looking real , they always look good and do not require any care.
Multiple uses of artificial plants open up numerous possibilities to creatively decorate your space in different ways. An aquarium or even an ornamental jar filled with decorative stones and aloe vera will be a beautiful addition that will look perfect. The decoration will look beautiful in any place of your home. Aloe vera is a versatile and timeless plant that will never go out of style. If you keep it on your desk, thanks to its rich green colour, it will help you calm down and make the time spent on working or studying more pleasant.
The combination of aloe vera and echeveria also looks particularly tasteful. We can put them on a decorative tray on a windowsill, shelf or dresser and create a family of succulents. Using several different plants will ensure a diversity of both shapes and shades of green and red.
<p>
Keeping plants in separate small pots is also a good idea. It will allow you to put them almost anywhere. In the kitchen, in the living room, in the bedroom and even... in the bathroom. Artificial flowers and plants are not affected by changes in temperature or moisture. Such an addition will definitely make your space more beautiful and your time more pleasant.